London based Asian Wedding Photographer
10 secs to know me
I am not your 'normal' Asian Wedding Photographer.  I will answer your messages at any time in the day.  I will have fun on your Wedding Day.  I will eat your cake and drink your beer!  And if you've booked me for the day… I will stay till the very end to get that one last amazing picture!  My ethos is to envelope you in a blanket of care so that you have no worries from the moment you book till the end of your wedding day.
Play the video to find out a whole lot more!
Asian Documentary Wedding Photographer
I've had the honour of photographing numerous different types of weddings.  From Hindu to English, Sikh to Greek.  Every type of wedding is different and having a deep respect and understanding of the ceremony allows me to create the stunning pictures you have seen.
London based Indian Wedding Photographer
I am a London based Indian Wedding Photographer who has lots of experience shooting wedding not only in London, but also the Midlands, Europe and the rest of the World.  I've been fortunate to be given the responsibility of photographing intimate weddings in the countryside to huge lavish weddings in London.
Fun Moments creating Stories
My ethos to shooting your wedding is to have the most amount of fun possible which in turn leads to amazing stories.  I want you guys to forget about the stuff that hasn't happened and just be totally engrossed in the beautiful moments occurring throughout your wedding day. Don't worry about the things you cannot control – cos I will be taking pictures of it all!  Just sit back, relax and enjoy the day.  I'll be there to capture it all.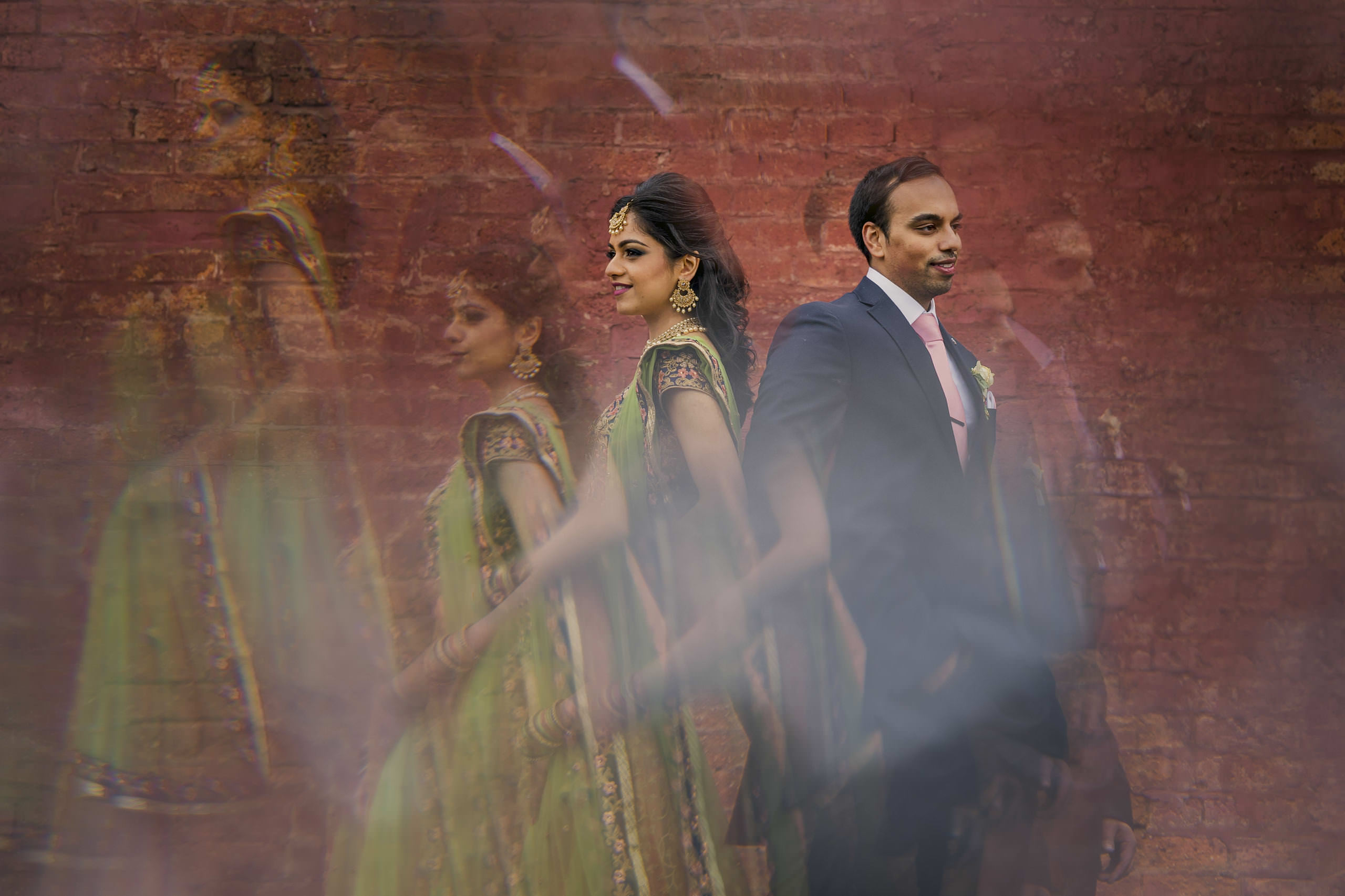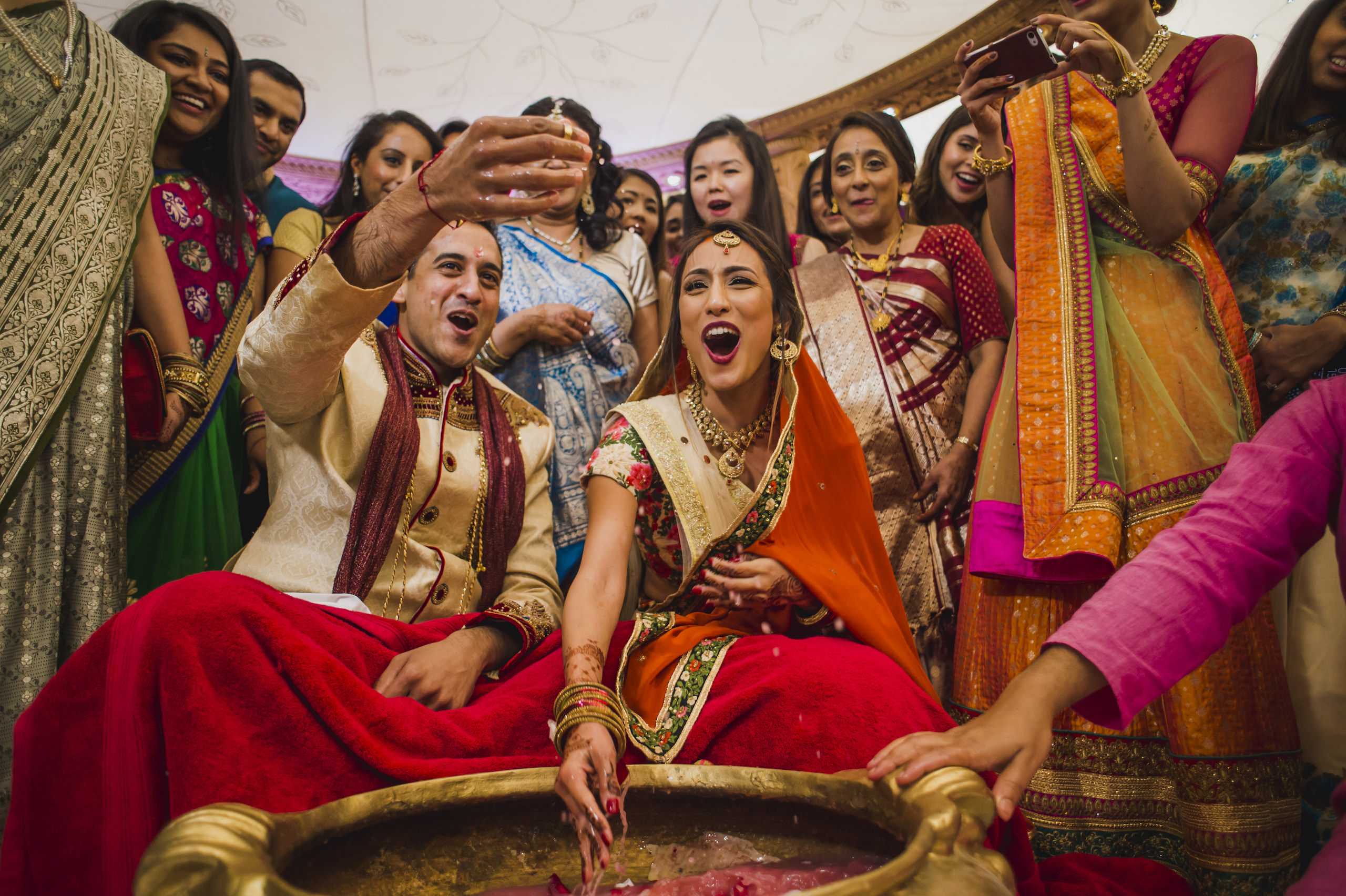 Editorial or Documentary?
Which type of photography do I produce?  Is it a set of highly polished, beautifully posed, positioned and lit photographs?  Or is it a collection of unposed, candid and natural documentary photographs?
My view on this is pretty simple.  There are times in the day for Editorial and there are times in the day for Documentary.  While the majority of my work is in a Documentary stye – I work hard to produce a collection of well posed, lit and executed photos.
Check out my portfolio to see more!
Check my availability
I am a London based (East London, in fact) Asian Wedding Photographer who specialises in photographing your day in the most natural and realistic way possible.  This may mean me climbing onto chairs, crawling on the floor or even squeezing myself into some tiny spaces in order to create the memorable pictures you have seen.
I get to know my clients at a friendship level which allows me to support them on their wedding day.  I understand that weddings aren't scripted and no two weddings are the same.  Its about you, your family, your friends and loved ones coming together to celebrate a beautiful event together.
I love capturing the fun, love and laughter that resides in every wedding.  A day where I get to watch two people come together and affirm their commitment and love for each other.
While I predominantly shoot Asian Weddings (ranging from Colourful Sikh Weddings, Opulent Hindu Weddings and Beautiful Muslim Weddings), I do have vast experience covering beautiful Church Weddings, Greek Weddings and even Destination Weddings.
Being based in London does not mean I am solely photographing weddings in London.  I love to travel and I have been lucky enough to have covered weddings all around the world.
Check my availability
10 Awesome Reasons
I focus on the important stuff.
It seems easy, right?  But finding real emotions during a wedding is different for everyone. For some its a smile from their father or for others it could be a hug from their grandma. I am constantly looking for all this and more.
What should you expect
Lots of fun.  Lots of silly faces.  Lots of crazy memes.  At the end of it all, lots of amazing photos.
No judging
It doesn't matter if your wedding is High end or Low end.  It's about you.  Have the most amazing time and the pictures will naturally follow.
My Style
Simple, honest, emotive pictures.  What else should it be?
Working together
You choose your suppliers for a reason.  I will work with whoever you have booked.  Its important that we all work together for you to bring your day to life.
Support
You got a question, ask me!  WhatsApp/Text/Email/FaceTime/Skype… whatever.  I make it as easy as possible for you to contact me.
I've seen it all before
Big or Small; 10 guests or 10,000; Simple wedding or multi day extravaganza.  I've seen it all before.
Be yourselves
If you like to be silly, then do silly things.  If you like to be serious, then do serious things.  I get to know you beforehand so that when it comes to your wedding I don't ask you to do serious stuff when you prefer silly things.  I will go out of my way to make you feel as comfortable as possible so that you can really enjoy your wedding day.
Right place all of the time
All of the time?  I've shot so many weddings that I have the experience of know where I should be so that I can have the best opportunity to capture the important pictures.
Always trying
I always try to produce something new or something different.  Sometimes it works, sometimes it doesn't – but if I don't try you will never see the creative pictures that you have seen throughout my portfolio.
We watch other wedding photographers and just think… "Nish wouldn't have done that!?"
Nish is amazing – just book him
Nish is now a really good friend.  He really has our backs.